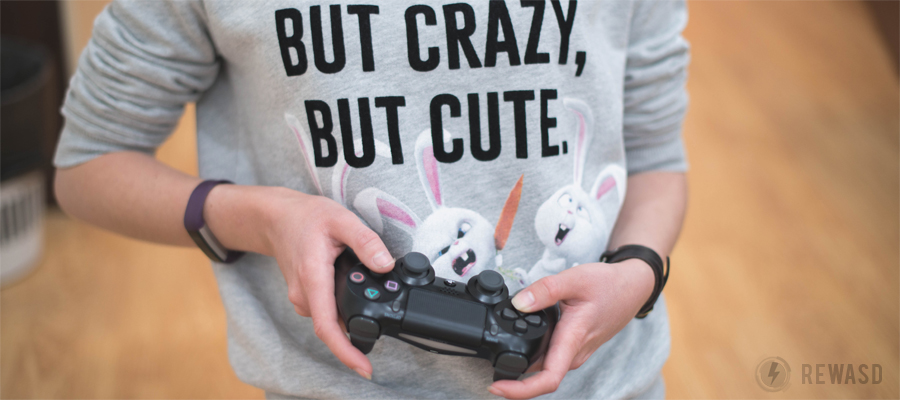 Necessity is the mother of invention, that has never been a secret. We know there can be inconveniences at the point of using PS4 controller on PC. That's why we created reWASD. Our software combines lots of necessary features making reWASD the best way to use PS4 controller on PC. It's super convenient to have all the tools in one app: both the tools to create the preset from keyboard keys (virtual mapping) and to tune the gamepad behavior (hardware mapping).
Let's see how to calibrate PS4 controller on PC with reWASD!
Note: if you're looking for a ready-to-go layout, and wonder how to connect PS4 controller to PC and use it for a certain game, you can visit reWASD community, where people share their configs. You'll find plenty of game presets there, and all you need to do is simply download the file and import it to reWASD.
Making the setup for PS4 controller on PC with hardware mapping:
If native controller layout is completely fine you can tune only the gamepad behavior: change stick response, set the deadzones for analog controls, turn off controller buttons, and many more.
Stick response
Pretty obvious :) One more good way of how to calibrate PS4 controller on PC and make your gaming performance unique and comfortable for you. reWASD permits to choose between one of the ready graphs (Default, Delay, Aggressive, Instant and Smooth). Or, if those basic presets are inconvenient, you can tune your own stick response graph: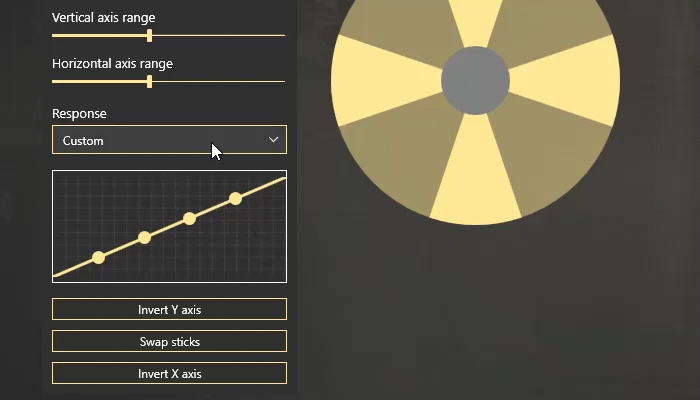 4 dots are at your disposal, let your imagination flow! By the way, you can also invert stick axes (both X and Y) in one click, or swap sticks if needed.
Deadzones for sticks and triggers
Deadzone is the area where nothing happens. When you use PS4 controller on PC, you can set deadzone for both sticks and triggers. Deadzone fits in perfectly in one of two cases:
If the sticks or triggers are too sensitive. Is your controller and old pal that served you for years? Then you've already faced the rickety controls problem. Just make the deadzone bigger to avoid unwanted actions!
If the sticks or triggers are too tight. Have you bought a new controller recently? Congrats! Now you can make analog controls more sensitive with reWASD. Make the deadzone smaller and — voilá — you can save your energy for something better than pushing sticks tooth and nail ;)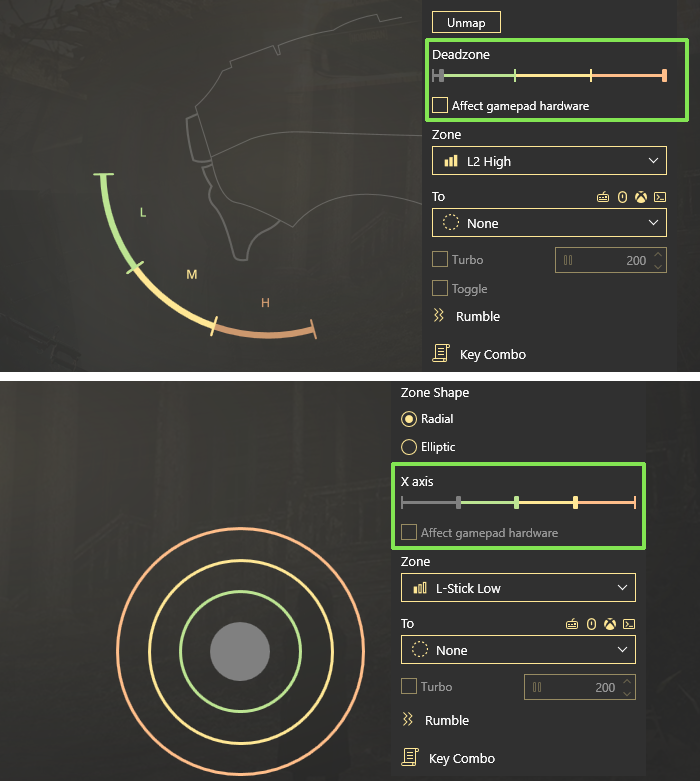 How to connect PS4 controller to PC and use it for games without the gamepad support? Try reWASD mapping!
Struggling with a game that doesn't have controller support? reWASD mapping is the key to perfect gameplay. You can map keyboard keys to controller and play the game with gamepad, like if it initially supports controller.
Emulated mouse settings
What if you need precise mouse movements on digital buttons? reWASD saves the day! You can set the sensitivity, speed, acceleration and scroll speed, thus, make the perfect setting for the emulated mouse in a certain game.
This feature is frequently applied for FPS games configs to aim. The right stick is usually used as a look-around control that moves fast enough for spotting the opponents, but too harsh for aiming accurately. To setup PS4 controller on PC for advanced gaming in FPS games, map mouse movements to D-pad or to XYAB and set the needed parameters in Mouse settings:

Mouse Sensitivity — The analog of pointer speed setting in Windows. Affects digital (buttons) and analog (sticks and triggers) controls. A great option that helps to setup PS4 controller on PC and adjust the way mouse moves
Mouse Speed — Available ONLY for mouse moves that are mapped to digital controls (buttons). Speed is a stable value, the bigger it is the quicker the pointer moves at the beginning
Mouse Acceleration — This is a dynamic value, and the higher it is the quicker your mouse speeds up. Works only for mouse moves that are assigned to digital buttons
Scroll speed — This setting can affect both digital and analog controls. When you map mouse scrolls to controller, don't forget to tune the speed
Dealing with Steam patrial controller support
reWASD can help you out even if the game from Steam has partial controller support: you can unmap all the controller buttons, then assign keyboard keys to them, and use the gamepad fully. Even though sometimes it's enough to add Hardware mapping, the KB&M to the controller style is still the most popular in our community. That's why Steam partial controller support is no longer a problem at all!
You can use PS4 controller on PC and get the most of it if you use some unique features that we offer. Let's talk about analog sticks! reWASD differs three stick zones: Low, Medium and High, and this feature permits to add mappings to them. Thus, when your stick moves to a certain zone, added mapping will reproduce together with the stick mapping.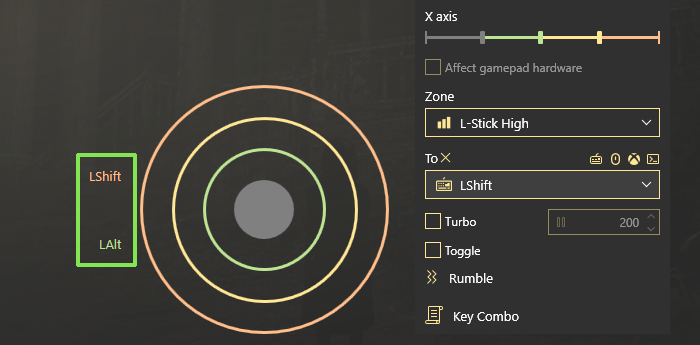 There are two ways how to connect PS4 controller to PC and to use this feature:
If you want to accomplish native controller support. For example, your stick works good as WASD, the character moves, except you want the character to run when you reach the stick endpoint. Map the keyboard key that enables running to the High zone, and it will work smoothly! You can map any keyboard key to stick zone, it's up to you :)
If you're making a config from a scratch and want to make your stick super effective. Set additional actions to stick zones: walk slowly for Low zone, walk regularly for Medium zone, and run for High zone. Thus, you don't just use PS4 controller on PC, you make it better than it is
Sticks axis range
Starting with reWASD 2.2 you can tune the way how exactly stick mappings reproduce when you use PS4 controller on PC. Let me explain. You set a basic WASD to stick, and this option permits to tune the area where W+A, A+S, S+D, and D+W reproduce: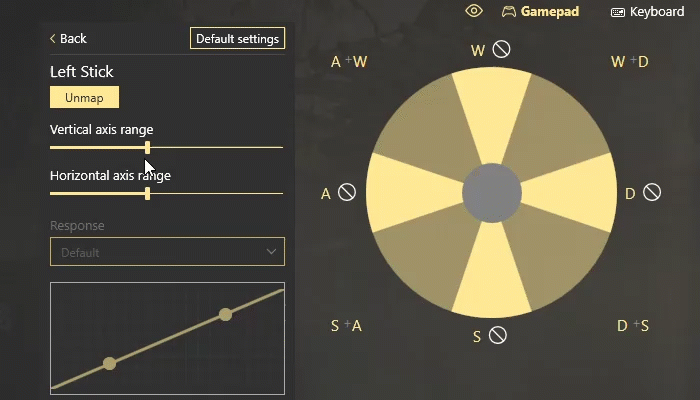 Thus, you set the range where W, A, S, and D reproduce exclusively. If you need to maximize the accuracy, this will work as well, just maximize the Vertical and Horizontal axis range to avoid the diagonal movements. As a result, there will be less transitional movements, which makes the great setup for PS4 controller on PC in games where precision is necessary (for example, platformer or fighting games).
Haptic feedback
The best way to use PS4 controller on PC is to make it as handy as possible. Good gamepad settings make good gameplay, so don't underestimate the haptic feedback. This feature is mostly used for the "participation effect" like you're actually shooting and get a blowback. Since reWASD 5.4, we have improved the Rumble feature, and now you can pick which motors will vibrate, and at what intensity.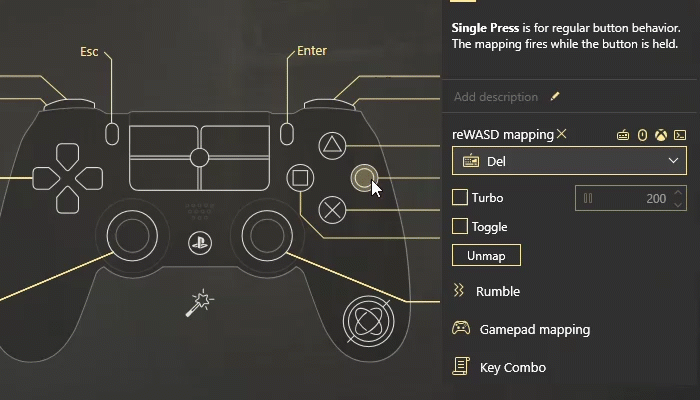 You can also use this feature for a warning sign, for example, if the Shift modifier is pressed so you would know that another layout is activated. Or just for fun :)
Hope this post will help you find out how to connect PS4 controller to PC and use it with any game. If you have some questions don't hesitate to reach out to us wherever you feel comfortable: Discord text chat, on Facebook, or on reWASD Forum. Make sure to follow us on Pinterest, Reddit, and YouTube to keep your hand on the pulse.