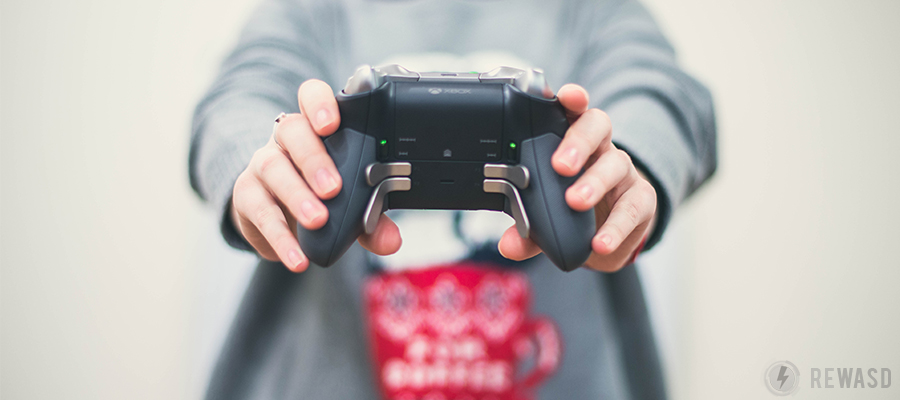 Choosing controller for PC gaming is not as easy as it seems: there are plenty of them and each controller has pros and cons. If you're on your way to buy the controller for PC gaming — check the PC controller review first, to make the right choice. Although, many gamers have already chosen the most luxury controller on the market — Xbox Elite. Apart from stylish design, saving-from-sweaty-hands covering and powerful software Xbox Elite controller has one more perk to please customers — Elite paddles.
Xbox paddles are extremely comfortable in use. You can keep your thumbs on sticks, put forefingers on bumpers, middle ones on triggers, while the ring and little fingers will be busy by pressing Elite paddles. It's a perfect solution for RPG multiplayers where you have to react quickly. With Xbox paddles, you don't have to displace your thumbs from sticks — you use two more fingers to achieve the highest performance.
As we're talking about controller for PC gaming, unfortunately, Microsoft has no native software for mapping Xbox paddles. And PC recognizes your fabulous Xbox Elite controller as Xbox 360 in overwhelming majority of cases, so Elite paddles lose their advantage at a glance. Xbox Accessories app will set the face buttons (XYAB) to Xbox Elite paddles by default, and the existing third-party software can't map paddles.
reWASD saves the day! This awesome app can reanimate Xbox paddles right away: you can fully remap Xbox Elite controller to keyboard, so any keyboard or mouse key can be assigned to Elite paddles.
Even if your gamepad buttons are all occupied with controls, you can map not in-game actions to Elite paddles with reWASD. If you listen to music while playing you can set the "next track" or "previous track" to Xbox paddles, or a screenshot command to make gaming process handier. Let's try it in action!
How to remap Xbox Elite paddles while playing with Xbox Elite on PC
So many wasted hours I was gaming with Xbox Elite on PC but didn't use Elite paddles. It's time to get more from my top gamepad! Here's a short how-to:
Download and install reWASD. It's free to try, so it would be easy to start.
Connect your Xbox Elite to PC. Once connected, you will see the icon appear in the lower-left corner, and you need to pick the controller you want to remap.

Create a new profile, the config creates automatically. To configure paddles you need to press on a tile on the right side of reWASD window, that's how you switch between the front and back view:

A few steps left to fully remap Xbox Elite controller to keyboard (or mouse)! Press on the needed paddle and then choose a key to assign with. Don't forget to unmap the hardware value of Xbox Elite paddle to mute the native behavior (which is usually XYBA in case of the paddles).

Press on the tile on the right side of reWASD window to remap other controller buttons if needed, and click Apply to activate the remap.
Here it is. Just 5 easy steps to start using Xbox Elite on PC and do not miss anything from its features.
How do you like Xbox Elite paddles? Which actions do you usually assign to them? Was it easy to start using Elite paddles for you? Would be happy to see your feedback in the comments!