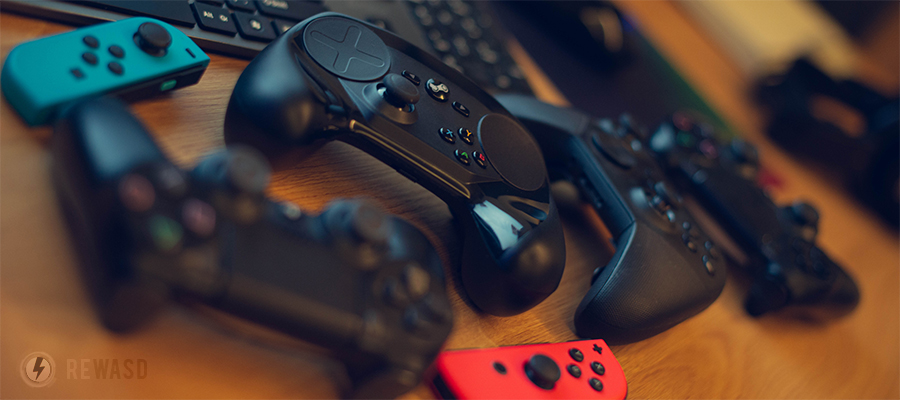 As we all know from the economy classes, demand creates supply: thanks to the rise of awareness around disabilities, gaming is becoming more and more inclusive. Even though it seems obvious that everyone should be able to enjoy video games, many of the gamers struggle because a lot of gaming devices were created with able-bodied people in mind. On top of that, games may have complicated mechanics and control schemes.
However new devices for people with disabilities appear in the gaming industry. One of the most well-known is Xbox Adaptive controller (and its alliance with Logitech kit and other devices), which covers quite a big spectrum of needs. Another one is SubPac M2X, and it's amazing: it is designed for deaf and hard of hearing people and it converts the sound effect in games into tactile sensations. A more complicated device — QuadStick — is used by persons who can not use hands or fingers to click buttons, move the mouse, etc. Lots of customized single-handed gamepads, home-made kits, pedals, minimalistic joysticks appear constantly these days.
A proper remapping tool can also help a lot: some of the kits have official software that you can use along with the device. But if it doesn't, you may need some third-party help. Which some of our users have found when they discovered reWASD. After several years of reWASD being on the market and a lot of support cases where the main goal was to make controls more comfortable due to the health conditions, we decided to ask our users about their experience in gaming and with reWASD in particular.
«I know video games don't seem like such a noble cause. When you feel trapped in the damage of your own body video games provide the outlet» — Jason Black
Even though there is a lot of criticism around video games, they can help a lot for those who can not express themselves through the activities able-bodied people are used to. Jason pointed out that many studies have shown that gaming can help with depression and mental disorders. This research is one of the good examples:
«Considering game play within this model [Seligman's PERMA model] suggests that play can have a positive effect on the mental health of individuals in society engaged in moderate videogaming»
The keyword is moderate: once you overstep, gaming can negatively affect your normal-day life. Like in any other coping mechanism, balance is important.
But that's not the only thing we wanted to bring up, even with the existing positive impact on your well-being, there's some sort of gatekeeping. The reason for that is the inaccessibility of complicated controls schemes, unsupported devices, etc:
«Some games are quite challenging due to my physical limitations — mainly the ones that include R3/L3 buttons [Stick clicks on DualShock controller] — so changing the controls (which the games usually don't support natively) is the only chance for me to play them» — Václav Muzikář
«The one problem I couldn't get around was that most games after 2016 could recognize almost any controller and set predefined bindings that were not customizable. The reason I needed full customization was due to my disability: I am missing my right arm, most of my left, and use my feet for almost everything» — Xanodia
Xanodia also pointed out that it's hard to contact the game developers concerning this case. But frankly, changing the controller scheme is not something that is done in a matter of hours. It may require a lot of refactoring and changes in the game itself (shoutout to all the 30GB+ updates).
What you could do right now, is let game devs know what you would like to change. Reach out to them and share your suggestions, and we are back to what this post started with: demand creates supply. Each request is important! But for now, a quick and easy solution would be to overcome the native controls scheme and come up with your own:
«…although I praise the ability to disable controller recognition, I adore many other features such as the shortcuts sub-layer, enabling me to set the right stick to more than just a camera and play everything from League of Legends and Tarkov [Escape from Tarkov], to Phantasy Star Online 2 and World of Warcraft raid content on my $15 Nintendo Switch Horipad wired controller» — Xanodia
Even if some changes in the layout seem minor, like swapping a couple of keys, they can be a game-changer (literally):
«I wanted to be able to play on my PS4 using Remote Play on PC. Even though PS has some remapping options, they don't work over Remote Play. And reWASD did just that! It allowed me to change the controls like magic. Later, reWASD team added support for virtual DualShock and this was a game-changer. Thanks to that I don't need to use DualShock at all if I don't want to and use my preferred devices — keyboard and mouse» — Václav Muzikář
Another thing about accessibility is the sizes, shapes, and weight of the gaming devices. Sometimes the old good Xbox 360, that is widely supported by almost all PC games with controller support, may not be suitable for your physical abilities:
«I found out about the reWASD by searching Google for a way to use the Nintendo Switch Joycons on PC. I needed an application that allowed you to use Joycons on PC because due to my physical disability all the other controller types are too heavy for me» — John
John has mentioned the particular game he wanted to play with Joy-Cons, and it's a 2007 Korean MMO racing game, Skid Rush (Drift City). It was sponsored by several major automotive companies (Chrysler, Dodge, Jeep, U1 Technology), so it's quite a solid game to play.
«I used to play the US version of Skidrush called Drift City but it got shut down in 2016. I really wanted to play Skidrush but I just couldn't play until I found out about reWASD» — John
Among the ability to remap Joy-Cons and customize the layout, the Toggle feature turned out to be very useful for him (not to mention Gyro support: you can remap Joy-Cons gyro to steer for you):
«...for racing games, I don't need to hold down the accelerate button anymore. This used to get very tiring on my thumbs/fingers» — John
We are very happy that reWASD can help a lot of people join gaming communities, rearrange the controls the way they feel most comfortable with, and enjoy gaming. Also, we can't express enough how thankful we are for all the folks who contributed to this post! Thank you for being with us.
There are a lot of volunteer organizations that help people with disabilities in the gaming area, so if you wish to support or learn more about them, you can start here:
If you have your personal story or personal request, our team is always here to listen to you: reach out to us wherever you feel comfortable: Discord text chat, on Facebook, or on reWASD Forum. Make sure to follow us on Pinterest, Reddit, and YouTube to keep your hand on the pulse.. Let's make gaming world enjoyable together!