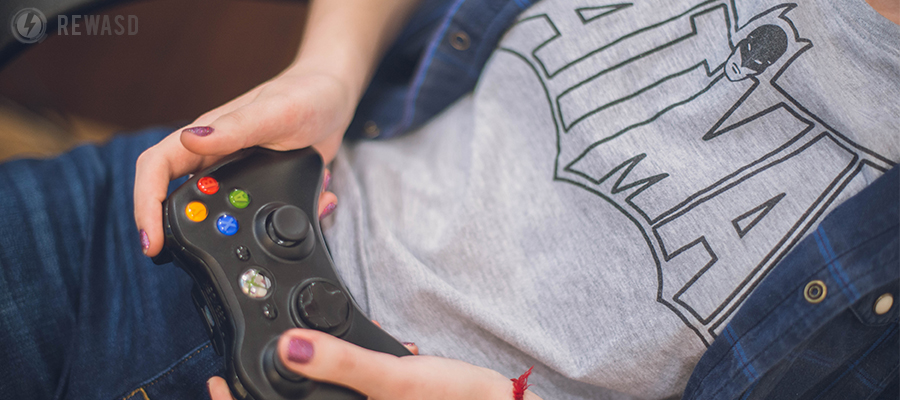 With reWASD 1.3, our gamepad remapper got many new features that help map controller to keyboard to get the best gaming experience. Some of them sound a bit tricky, so I want to tell you more about the novelties you may have missed. So, let's try to map Xbox 360 controller to keyboard, adjust mouse acceleration and hook keys and buttons together!
Remap Xbox 360 controller with reWASD 1.3!
As we've already mentioned in our PC controller review, Xbox 360 is the cheapest and the most comfortable controller among the most popular gamepads. And many of you, folks, were asking if reWASD is capable to remap Xbox 360 controller to keyboard since reWASD 1.1 released. The wait is over — now it's possible to fully map Xbox 360 controller to keyboard and ameliorate your in-game experience!
Adjust mouse acceleration
When you map controller to keyboard while creating configs for first-person shooters, you may notice that camera movements (mouse up, down, left, right) set to stick change the view insanely quickly. It's not always good, because you can't focus on the view you currently need. Latest reWASD version fixes this problem!
Mouse emulation was improved comparing to previous version, and what is even more important — our team worked on mouse acceleration. The latest version of reWASD permits to tune the mouse sensitivity while you map controller to keyboard.
How to adjust mouse acceleration with reWASD
Download reWASD.
Connect your Xbox Controller to PC. If one is connected — reWASD will indicate it below, pick the needed controller:

Create a new profile, the config creates automatically. To reach mouse settings you need to press the tile on the right side of the gamepad:

Adjust mouse acceleration the way you need for the certain game.

Press the controller tile on the right to go back to main mappings, remap other controller buttons if you need to, tap on "Apply".
Done! Launch the game and enjoy.
If you're a rookie in all this controller remapping stuff, you can start with our tips of how to map controller to keyboard in your first config. reWASD team was creating configs for games of different genres, and we'd like to share the wisdom with reWASD users :)
Hook keyboard and controller buttons
This option makes remapping keyboard process pleasant and handy. While editing or creating config press the controller button you want to remap keyboard key to, and then press the keyboard key that needs to be mapped (instead of scrolling the whole list), and the chosen buttons will be hooked right away.
As you probably know, reWASD emulates the virtual keyboard. That's the one you're using for creating configs and remapping your controller. The list of buttons is standard, however, each keyboard is different. So if your keyboard doesn't have a certain key that you need to hook you can easily find it in the combobox: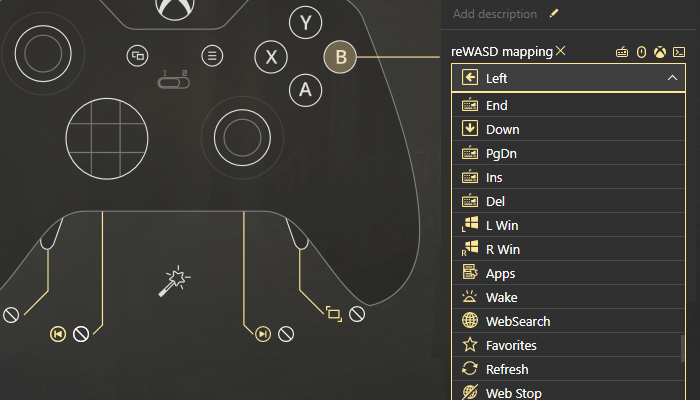 Our team continues working on reWASD to make it even more powerful and useful for you! This process is impossible without user feedback, so tell us what you do and don't like about the gamepad remapping software we propose. Reach out to us wherever you feel comfortable: Discord text chat, on Facebook, or on reWASD Forum. Make sure to follow us on Pinterest, Reddit, and YouTube to keep your hand on the pulse.